Enjoy Our Family Suites in Anaheim, walking distance to Disneyland®
America's Best Value Inn Anaheim is perfect for anyone looking for family suites in Anaheim walking distance to Disneyland®. America's Best Value Inn Anaheim located in the heart of Anaheim Resort District, just a block away from the amazing Disneyland® Resort. Families have various choices of different suite types such as 2 Bedroom 4-Bed Suites or a 2 Bedroom Family Suite and will enjoy the outdoor pool and spa in Southern California's warm, sunny weather. Shuttle service from our Disneyland® hotel is available to the Park, Downtown Disney® District and Disney's California Adventure® Park through Anaheim Resort Transportation. America's Best Value Inn Anaheim is also just steps away from famous eateries such as Bubba Gump Shrimp Company and Roy's Hawaiian Fusion restaurants at the Anaheim GardenWalk, which offers a multitude of activies such as movies ans shopping.
Best Family Suites Walking Distance to Disneyland®
Disneyland® Park is one of the best places on earth to take your family. It entertains millions of visitors each year and is one of the most well-known landmarks of Southern California. At American's Best Value Inn you can skip the car rental and walk to Disneyland® Park, where you and your family can build memories here that will last a lifetime. Use Disney's FASTPASS® Service within the park to avoid lines! As you enter the many magical and fantastical lands of the park, stories from your childhood will come to life all around you. Purchasing Disneyland® Resort Park Hopper® tickets (with admittance to both Disneyland® Park, Disneyland® Resort and Disney's California Adventure® Park at America's Best Value Inn Anaheim Hotel will save you time and money.
Disneyland® Ticket Packages
CITY PASS is your pass to 4 Southern California theme parks at 26% DISCOUNT! The City Pass is the attraction package Best Value Inn Anaheim hotel has to offer. Now explore attractions in LOS ANGELES, ORANGE COUNTY and SAN DIEGO. The City Pass provides a three day Disneyland Resort® Park Hopper® Ticket to Disneyland® Park and Disney's California Adventure® Park, one day admission to UNIVERSAL STUDIOS HOLLYWOOD, and one day at SEA WORLD SAN DIEGO.You have 14 days from the first day to enjoy all of these attractions without waiting in a ticket line. The Southern California City Pass is available now for $306 for adults ages 10 and up and $269 for children ages 3-9. Purchasing City Passes at America's Best Value Inn Anaheim Hotel will guarantee you an action-packed and enjoyable stay in Southern California! Our hotel offers the best Disneyland hotel packages that many other hotels near Disneyland CA cannot compete with, so take advantage of our discount deals today!
Disneyland® Park Attractions
Main Street, U.S.A.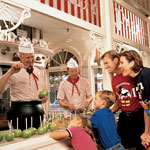 At the park's entrance, Main Street, U.S.A. is lined with gift shops, candy stores, a soda fountain, and a silent theater that continuously runs early Mickey Mouse films. Take a stroll down this street back in time with a vintage vehicles such as streetcars, trolleys, and horseless carriages. You can also visit The Disneyland® Story presenting Great Moments with Mr. Lincoln for a fascinating look at The Great Emancipator.
 
Fantasyland
Beyond Sleeping Beauty Castle, Fantasyland is the home of your favorite Disney heroes and villains. You can meet Princesses Snow White, Sleeping Beauty and Cinderella and step into their storybook worlds of true love. Discover the many cultures of the world and sing along to "It's a Small World." Don't forget to fly over London with Peter Pan or get dizzy in the magic tea cups!
Tomorrowland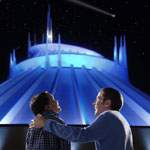 Visit the future at Tomorrowland! You can rocket into the darkest areas of space on Space Mountains. Go "to infinity and beyond" as you battle aliens in Buzz Lightyear Astro Blasters, inspired by Disney-Pixar's "Toy Story 2." Explore all that science and innovation has to offer in this Disneyland® Park area.
Adventureland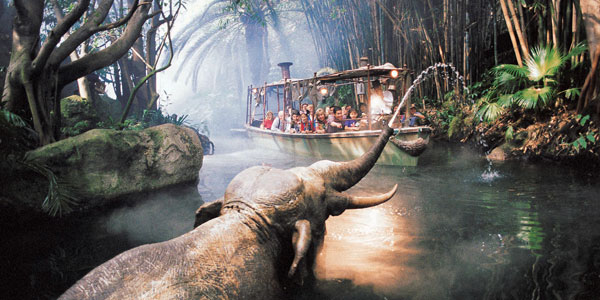 Inspired by the most exotic regions of Asia, Africa, India, and the South Pacific, Adventureland is home to several popular attractions. Here's where you can play inside Tarzan's Treehouse™*, a climb-around jungle attraction based on the animated film. The Indiana Jones Adventure™(©Disney/Lucasfilm Ltd.) is Adventureland's star attraction.. Based on the Steven Spielberg films, this ride takes adventurers into the Temple of the Forbidden Eye, in jolting, realistic, all-terrain vehicles.
New Orleans Square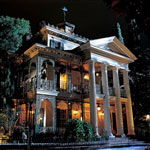 The French Quarter comes alive with boutique shops and sidewalk cafes at New Orleans Square! Home to 999 ghostly haunts in the Haunted Mansion, New Orleans Square has plenty of dining, shopping and entertainment for the whole family. Swashbucklers young and old will love The Pirates of the Caribbean ride.Visitors float on boats through underground caverns entering an enchanting world of mystery and buried treasure.
Critter County
At Critter Country, go back to your childhood playing in the woods! Step into the whimsical storybook world of The Hundred Acre Wood in the all new attraction "The Many Adventures of Winnie the Pooh." Older kids and grownups can enjoy Splash Mountain, one of the largest water flume rides in the world.
Mickeys Toontown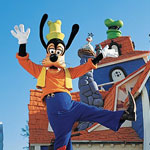 Mickey's Toontown colorful, whimsical world populated by your favorite Disney cartoon Characters. Visit Mickey Mouse at home on the set of his latest film. Or, join Goofy in his wacky bounce or Donald on his boat home the "Miss Daisy." Be sure to ride Roger Rabbit's Car Toon Spin**, a mad capped adventure inside the world of toons or Gadget's Go Coaster.
Frontierland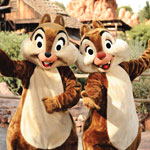 Finally, Frontierland brings you back to the times of the Old West. You can have a great adventure riding Big Thunder Mountain Railroad, rumbling over a mountain in a runaway railroad car. Search for treasure at Pirate's Lair on Tom Sawyer Island or simply enjoy the shows at Golden Horseshoe Stage.
Disney's California Adventure® Park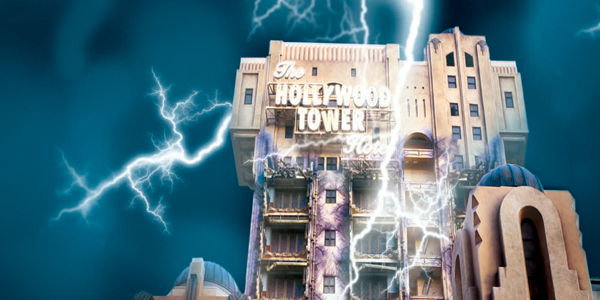 © Disney/CBS, Inc. The Twilight Zone® is a registered trademark of CBS, Inc., and is used with permission pursuant to a license from CBS, Inc.
At Disney's California Adventure® Park, you can experience the romance and magic of vintage Los Angeles on Buena Vista Street or Hollywood Pictures Backlot. You can get a bird's eye view of the Golden State in Soarin' Over California of Condor Flats. At "a bug's land"*** you can explore the world of Disney-Pixar's "A Bug's Life" through a 3D show, park and bug-themed rides. At Paradise Pier, you can visit a boardwalk of Disney and Pixar characters, including the music and lights of the World of Color show. Disney's California Adventure Park's newest area is Cars Land, a 12-acre expansion. You can celebrate automobiles at the all new rides: Radiator Springs Racers, Luigi's Flying Tires and Mater's Junkyard Jamboree. If you're looking for a hotel near Disney's California Adventure, then look no further than our Best Value Inn Anaheim hotel.
Downtown Disney®
The Downtown Disney® District serves up a wealth of shopping, dining and entertainment possibilities. Party at the House of Blues®, dine on exotic cuisine, catch a movie, or step into the ultimate sports bar–ESPN Zone®. Satisfy your tastes with a diverse range of dining options from all over the globe including New Orleans cuisine to Mediterranean delights. With a dozen great restaurants, including Rainforest Café®, Ralph Brennan's Jazz Kitchen® and Naples Ristorante e Pizzeria, your culinary senses are sure to be tantalized when dining in Downtown Disney! You can also shop until you drop for LEGOs, eclectic clothing, jewelry, your favorite Disney merchandise and so much more! There are many hotels near Downtown Disney to choose from but no one provides as much value and quality accommodations than America's Value Inn Anaheim hotel.
© Disney
All tickets, offers, events age ranges, services, attraction and entertainment may be seasonal and are subject to restrictions and change without notice.
*TARZAN® Owned by Edgar Rice Burroughs, Inc. and Used by Permission, Edgar Rice Burroughs, Inc. and Disney Enterprises, Inc. All Rights Reserved.
**Roger Rabbit's Car Toon Spin ROGER RABBIT CHARACTER© Disney/Amblin Entertainment, Inc.
***"a bug's land"/ It's Tough to be a Bug!: are inspired by Disney-Pixar's "A Bug's Life." ©Disney-Pixar